Automotive Tech Week Megatrends: Key Takeaways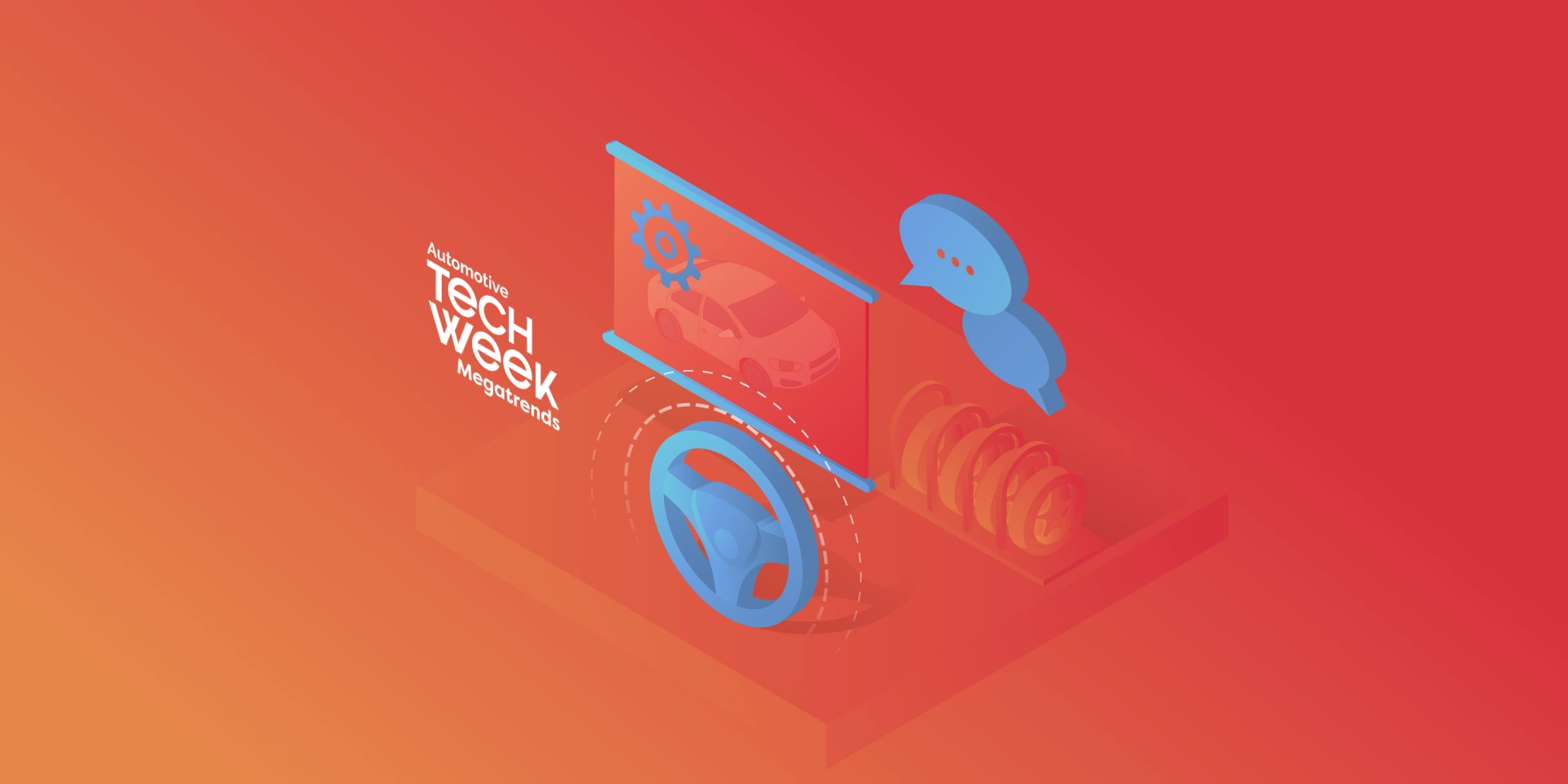 For the last couple of months, the ones during which we have to cope with COVID-19, we could have heard people all over the world saying that virtual events are pointless, and it's not the same as it used to be. Presentations are pre-recorded, and speakers are reading the text instead of presenting. If you ask the speaker a question, you may not get the answer because s/he is not there, and the audience is very limited.
Luckily, not all the events go like this. A perfect example of a great virtual event is Automotive Tech Week Megatrends that took place 2 weeks ago. Great speakers, insightful topics even for the most demanding automotive industry enthusiasts. A lot of attendees and most importantly – everything was happening live!
If you are a member of the automotive community, or at least you follow the industry trends, you have probably noticed how impactful changes have happened there during the last few years. From a very conservative industry, it turned into a forefront of digital disruption, adopting the newest technologies and trends faster than ever. How does it work? High-speed internet availability, LTE and 5G network coverage increased largely. Extreme miniaturization of fast, low-energy silicon chips made modern technologies like augmented reality or autonomous driving available for the users, but it also completely changed the way OEM's build cars. We can also observe new channels of monetization in the industry.
Results are spectacular. Not so long ago, introducing a new model or solutions used to take a few years, now automotive enterprises work at a rapid pace having a new competition on the market like Tesla or Rimac. Subscription-based monetization models are here to stay, as well as huge infotainment screens and very sophisticated, intelligent driver assistants.
But technology is not the only aspect of the fast-changing world. The other, maybe even more important trend is the ecology in mobility, with the main focus on electric and hybrid drivetrains. Reducing the CO2 footprint of the automotive industry by decreasing fossil fuel share in favor of electric or even fuel cell motors have become important and limited only by charging infrastructure and, still awaiting for game-changing invention, batteries capacity.
However, what are the next fundamental trends for the industry? Which of the trends, we can notice now, are here to stay and which are just fads? Speakers of Automotive Tech Week Megatrends tried to answer that specific question in the last week of January 2021.
Presentations covered a wide spectrum of topics: electric cars and charging infrastructures, urban mobility, and mobility as a service, user experience based vehicle and infotainment designs, V2X, and modern vehicle system infrastructure. Let's quickly walk through the most interesting ones.
Evolving Mobility in an Everchanging Digital World
In the opening presentation, Stephen Zeh from Silvercar, Audi, explained the challenges of shared mobility, the evolution of their rental services and value of digital offerings, especially subscription-based. The shared mobility experiences dramatic growth caused by a shift in customer behavior and approach – owning a car is no longer a goal, but people still want to travel by car. Different means of travel require different vehicles – small cars for short trips, bigger for family tours, micromobility like electric bikes or scooters for urban travels or shared mobility like Uber replacing taxis.
The automotive industry had to quickly adapt to the pandemic situation, especially when, in April 2020, the ride-halting customer count plummeted as the fear of infection emerged in society and demand for contactless, safe car rental surged.
All of that caused major changes in Audi Dealerships offering, not just limited to vehicle sales anymore, but providing a much wider set of services for their clients.
How User Experience Drove Design for the All-new F-150
The next day, Ehab Kaod, Chief Designer for F-150 at Ford, explained the challenges of designing a modern car by starting from user experience, affecting interior, exterior, and infotainment design and architecture.
Starting from on-site and remote customer research, finding the important features, and their pain points in previous truck models and how the new F-150 can solve their everyday issues. All of that resulted in new UX inventions like stow away, foldable shifter, bigger work surface inside, tailgate workbench or improved front seat design allowing a customer to take a nap in the vehicle.
5G & V2X – Shaping the Future of Automotive
Another important presentation delivered by Claes Herlitz, VP and Head of Global Automotive Services at Ericsson, went through a relevant topic – always-connected vehicle infrastructure.
The challenge of a connected vehicle is the network bandwidth, stability of the connection, but also prioritization of services and a cost factor for the customer.
With overcoming this challenge, organic growth can come because of new services being available: fast, over-the-air updates improving the car and adding new features, data used for analytics to find the ways to improve cost efficiency and user experience.
Finding a Balance Between Customer Consent, Data & New Products
Next, Magnus Gunnarsson from Ericson, Sebastian Lasek from Skoda Auto, Manfred Wiedemann from Porsche AG, and Diego Villuendas Pellicero from Seat jointly participated in a panel covering the customer data handling from the perspective of different regions: Europe, USA, and China, using the data for designing and evaluating new products and strategies increasing customer acceptance for the handling of data securely.
With cars becoming always connected, IoT devices, the amounts of data about customer behavior or the vehicles itself grows exponentially. This may raise questions about data security, user consent for data storage and usage for e-commerce, marketing and improving user experience.
In Europe, the common framework for handling this situation is GDPR (General Data Protection Regulation), which helps to establish a common baseline for all manufacturers regarding data security and customer consent. It also helps OEMs feel safe when operating under this kind of strict regulations.
On the other hand, the big question arises if other regions, like America or China, should use the same processes, as both legal regulations and cultural differences may be an important aspect to consider when, for example, the vehicle infotainment asks customers for license  acceptance or data usage consent when this is not really necessary.
All things considered, the big challenge for data monetization in Europe now is getting higher user acceptance.
The Future of In-Car Payments – Converting the Car to a Marketplace
Will Judge, Vice-President for Mobility Payments in Mastercard, explained in his presentation how car infotainment can be converted into a digital marketplace. For most customers, the convenience of digital commerce is not as important as its security. They want to feel they control the payment process with full knowledge about all parties that can access their sensitive data. Modern credit card providers enable digital transactions using secure tokens of the payment card that can be transferred through the internet, as well as heuristic and AI for fraud detection making the whole process safer.
With this level of security, the digital purchases can be safely provided in-car directly from infotainment systems with a rather easy-to-use manner for the user.
Automotive Tech Week Megatrends covered most of the hot topics that the industry is currently talking about. Great speakers representing world-recognized brands like Skoda and Audi showed some great results of their approach to innovation but most importantly how they are changing the way their organizations think of monetizing cars. Having advertisements appearing on your infotainment and a marketplace in Skoda cars seems to be the way that others will follow in the coming months/years. It is clearly visible how the Internet and Internet of Things, ecology, and data-driven approaches are guiding the industry to expand the market presence through sharing economy and subscription-based mobility. It seems that C.A.S.E strategy (Connected-Autonomous-Shared-Electric) is still the way to go!
The post Automotive Tech Week Megatrends: Key Takeaways appeared first on Grape Up.